0 Reviews
raiting star
raiting star
raiting star
raiting star
raiting star
Be the first to review this product.
Beautymaxx® Beard/Hair straightener with LCD, 360 degrees rotation
• Double Ionic Generator for Healthy Silky Hair: This hair straightener brush gives your hair a smooth, silky, natural lustrous look by sealing the hair cuticles, thus reducing split ends and knotting. Get silky-looking natural and healthy hair, rather than a flat burnt look. 

• Auto Shut Down and Auto Temperature Lock: Ensure maximum safety and optimum performance at all times. As a built-in safety feature, this hair straightener brush will automatically shut-off if not used for 30 minutes. 

• Dual Voltage 110-240V, Simple to Operate and Travel-friendly: Straighten hair at home on your own easily at any angle with the 360-degree swivel power cord. In addition, you can take it with you anywhere to get smooth and silky hair in minutes, no matter where you are. 

• High Density NANO Comb Brush for Curly Hair: Easily turn curly hair into straight hair in just minutes! Not only this, but this hair straightener provides a massaging effect that benefits the scalp and stimulates hair follicles. 

• New MCH Heating: The MCH (Metal Ceramic Heater) gives even heat distribution and quick temperature recovery time. The adjustable heat temperature from 120°C (250°F) to 230°C (450°F) allows you to match your specific hair type: thin, fine, wavy or curled. In just one minute, it can heat up to the desired temperature and offer great results.  
Product tabs
Feature & Function

Function introduction:
1. Plug in the power supply and FND displays "OFF", it is in standby state (no heat)
2. Gear display: Fahrenheit 250 265 285 300 320 340 355 375 390 410 430 450 Celsius 120 130 140 150 160 170 180 190 200 210 220 230
3. Press the on button for 2 seconds, the machine is turned on, the FND display gear is 355 degrees Fahrenheit (180 ° C), the FND display gear starts flashing, and the machine starts to heat up. After flashing three times, stop flashing, FND displays real-time temperature value until the temperature reaches the selected gear.
4. Use the "+" and "-" buttons to select different gears.
5. Press the on key for 2 seconds, turn off, the machine is in standby state (FND displays "OFF")
6. If the button 4S is not operated, it will be automatically locked and the button will be invalid. At this time, when the button is operated, FND will display the word "LOC" instantaneously, and release the button to display the selected gear.
7. Press the key twice within 1 second to unlock.
8. This machine has a memory function: without unplugging the power plug (standby state), the power is turned on again and the display gear is the gear when the power was turned off last time. If the power plug is unplugged and plugged in again, the memory function is invalid, and the heating display gear is 355.
9. Press the "+" and "-" buttons simultaneously, FND display can switch between Fahrenheit and Celsius display.
10. 30 minutes after power-on, it will automatically shut down and be in standby state. "OFF" is displayed. 
Recommend this product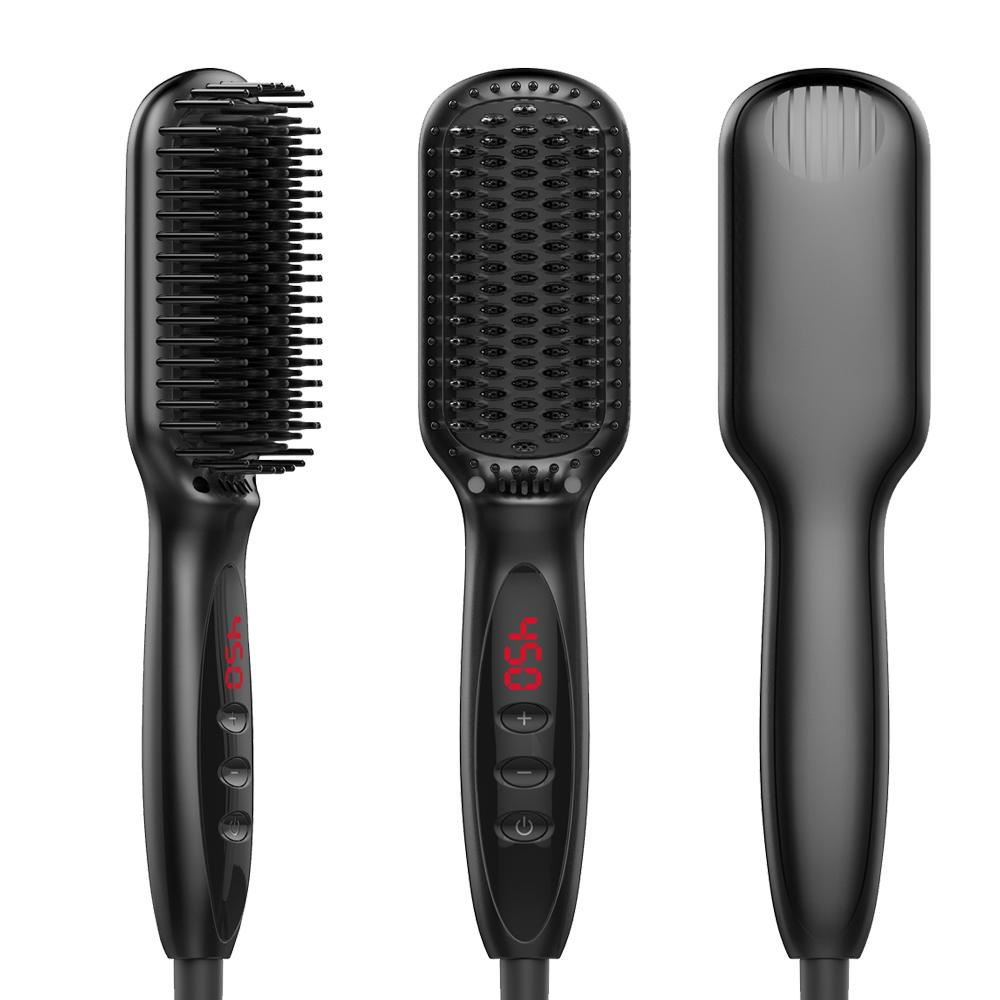 Beautymaxx® Beard/Hair straightener with LCD, 360 degrees rotation